Merry Christmas and Happy New Year!
I hope you had a great Christmas and are ready for the new year!  This Christmas our family spent the week back in Chicago.  It was a great time as we have been missing the snow and frosty weather we know during Christmas time!  While we were away, I was able to bake some of our favorite Christmas cookies at Grandma's house (shortbread and gingerbread cookies for sure!) It truly is great to have all the resources on line through our site and many others to call upon when away.  We all wanted a sugar cookie to add to the festivities.  So, I did a little looking around and found this great Cheesecake Sugar Cookie recipe at Gluten Free on a Shoestring.  The dough was really easy to work with and we all really enjoyed them.  I kept remembering a Cranberry Jewel Cheesecake from long ago and wanted to see how the cookies would turn out with a "jewel" topping.  So, upon our return, I got to work and look at the result!  Just the right amount of tang from the cream cheese in the cookie, married with the tart cranberry topping was perfect.  These will be a great addition to our Christmas Cookie lineup for years to come.  Merry Christmas, 2016, to all!
Gluten Free Cheesecake Jewel Cookies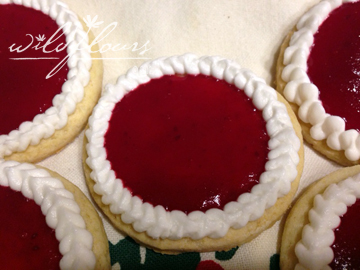 Ingredients:
Your favorite icing (or use Nicole's Cream Cheese frosting recipe she includes with the cookie recipe)
Cranberry Jewel Topping:

1 bag whole cranberries
1/2 cup water
1/2 cup sugar
pinch of salt
Method:
Combine all four Cranberry Jewel topping ingredients in a small saucepan.  Set the saucepan over medium heat and cook until the cranberries begin to pop.  Remove from heat and cool.  Once cool, strain the cranberry sauce through a fine sieve or food mill to remove the berry skins, making sure to press down on the berries to extract all of their juice.  Cover topping and set aside to cool completely.  Topping will thicken when it is completely cool.
Make and bake the sugar cookies according to directions, set aside to cool completely.
While cookies are cooling, make your favorite icing and place in a parchment decorating bag with a small round decorators tip.
To frost the cookies, line the entire outside of the cookie with an icing border.  This will help the cranberry jewel topping stay in place.
Then add two teaspoons of Cranberry Jewel topping to each cookie.  Use the back of a spoon to gently spread the topping smoothly over the surface of the cookie and up to the icing border.
Set aside to allow the icing and topping to stiffen.  Store cookies on counter for two days or in the freezer wrapped in plastic wrap.
Enjoy!
Leave a Reply