Today we celebrated the 4th of July with friends and asian barbecue!  It was a nice time, slowing down… sharing a meal and friendship.  The best part was the ice cream cake!  I had not made an angel food cake in ages, but just had a taste for it this weekend.  Since my husband had the grill covered, I decided to focus on dessert…  check out this awesome cake!
It is the "star" in this ice cream cake recipe and very easy to make.  If you are fortunate to find a GF AngelFood cake at your local grocery… that makes it even easier!!  I was not so fortunate, so had to turn on the oven; however, it was well worth it.  You can use any combination of your favorite ice cream and/or sherbet flavors.  Since it is the 4th of July, I chose a Strawberry Coconut Milk ice cream and Vanilla Bean Coconut ice cream.  It would have been equally good with a raspberry sorbet or sherbet! You will also need a version of whipped cream.  Since we are dairy free, I went with CocoWhip topping.  Then to make it festive… assembled the whole thing in a star shaped cake pan I had purchased a long time ago.  Why not!  After all, we are in Texas now!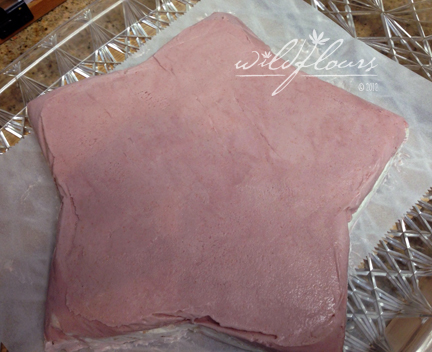 I let the cake setup in the freezer overnight and then let it thaw for just a few minutes on the counter when we were ready for dessert.  You could use any pan and as many layers as you want.
Once the crowd was ready, we sliced the cake and enjoyed, topped with a fresh wild blueberry sauce.  Hope you enjoy the fireworks tonight!
Happy Birthday America!!
GF AngelFood Ice Cream Cake
Ingredients:
1/2 Gallon Vanilla Ice Cream (milk, coconut, almond… your choice)
1/2 gallon strawberry ice cream or sherbet (again your choice!)
1 large container whipped topping (CocoWhip or other variety)
1/2 large GF Angel Food Cake
Method:
Line pan of choice with parchment paper, making sure to let it overhang the edges (this will help you to remove the cake from the pan later!)
Soften the strawberry ice cream and spread 1/2 the container on the bottom of your prepared pan.  Place back in the freezer to harden again.
Meanwhile, soften the vanilla ice cream and slice half the GF Angel Food cake into bite sized pieces.
When the vanilla ice cream is soft, mix 3/4th of the container with 1/2 the container of whipped topping.  Then gently fold in the bits of GF Angel Food Cake.
Remove the pan from the freezer, spread the vanilla/cake mixture on top of the strawberry ice cream and return to the freezer.
Soften the last 1/2 container of strawberry ice cream.  Remove the pan from the freezer and spread softened strawberry ice cream on top, smoothing the top with an offset spatula.
Cover the top with plastic wrap or more parchment paper and return to the freezer.  Let freeze for several hours or overnight.
When ready to serve, remove from the freezer and let thaw a few minutes.  Invert onto a serving dish and slice.  May be served with more whipped topping or fruit sauce.
Enjoy!